Sequel Logistics awarded the "Leading Warehouse Service Provider - Bullion Segment" award during the prestigious MCX Awards, held in Goa on 05th November 2022. MCX awards is organized by Multi Commodity Exchange of India Limited (MCX), India's first listed exchange, a commodity derivatives exchange that facilitates online trading of commodity derivatives transactions, thereby providing a platform for price discovery and risk management.
Sequel is the approved vault manager for MCX since 2017. Mr. Sharad Jobanputra, Chairman and Managing Director - Sequel Logistics received the award on behalf of Sequel Logistics Private Limited. This accolade stands testimony to Sequel's contribution to the gold bullion industry. Sequel has been a trailblazer in the industry for more than 18 years and launched many innovative and agile approaches to improve security and transparency in the precious metal vaulting space. Sequel has adopted a new-age technology like blockchain which enables the participants to view, verify and authenticate important and relevant information against the digital gold asset purchased, such as the physical bar identity, its origin, compliance record, current vault location and assay certificate. As Sequel expands its network and offerings, this recognition is a notable milestone for the Sequel team.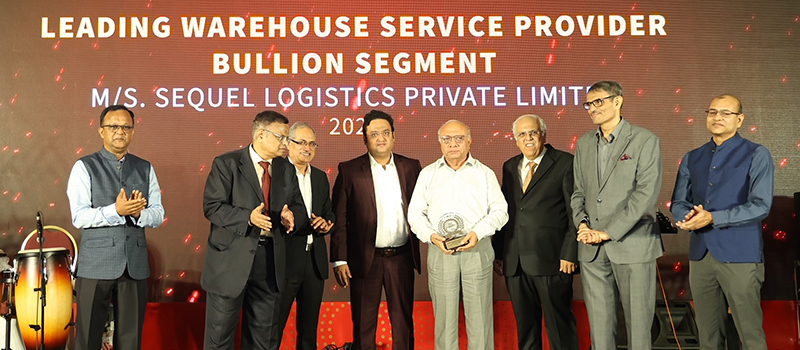 Left to right: Mr Rishi Nathany (Chief Business Officer - Business Development, MCX), Mr P. S. Reddy (MD & CEO, MCX), Mr Narendra Ahlawat (MD & CEO - MCXCCL), Mr Shivanshu Mehta (Head - Bullion, MCX), Mr Sharad Jobanputra (CMD - Sequel Logistics), Mr Hemang Raja (Shareholder Director, MCX), Mr Ashutosh Vaidya (Director - Public Interest, MCX), Mr Manoj Jain (Chief Operating Officer, MCX).